RIU Hotels & Resorts - Save up to $500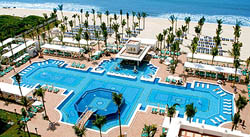 RIU Hotels & Resorts - Save up to $500
At RIU Hotels & Resorts, vacations are all about fun — whether it's playtime on the beach, racing your family down waterslides, eating your dessert before your dinner, or catching a live show before bedtime.
Book a flight and hotel vacation to RIU's featured properties in Mexico — Riu Dunamar, Riu Palace Baja California, Riu Palace Cabo San Lucas, Riu Palace Pacifico, Riu
...

Delta Vacations gives you the benefits and flexibility to truly own your vacation experience with packages inspired by hundreds of destinations, thousands of accommodations and endless activities.
Benefits of booking with Delta Vacations:
Enjoy savings when you package your flights, hotels, car rentals and more to any of our 300+ destinations worldwide.
Relax and book your dream getaway with ease, knowing you're getting the best price with our
...
Multiple itineraries available